The Best Place to Celebrate Canada's 150th Birthday — HOPE150 in Calgary
Details

Category: News
Created: Friday, 23 June 2017 14:14
Last Updated: Wednesday, 05 July 2017 20:23

23

Jun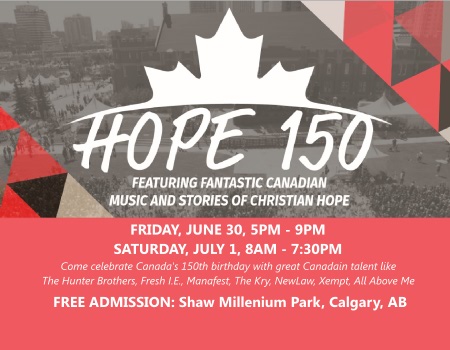 The Best Place to Celebrate Canada's 150th birthday — HOPE150 in Calgary!
Where can you go on the Canada Day long weekend that has something for everyone — including a free pancake breakfast, stories of hope, activities for kids and performances from Juno-Award winning bands and artists?
Calgarians don't have to go far. On Friday evening and most of the day Saturday, a large, free, family and youth-oriented festival will take place at Shaw Millennium Park right off of 9th Avenue and 11 Street S.W.
"There are a lot of people searching for hope," says Jason Caldwell, executive director for the event, who lost his twin sons — Jordan and Evan last February at Winsport — after the toboggan they were on crashed into a barrier on the bobsled run. "Jesus is the currency of hope!"
"We knew it would be a real shame to let the 150th birthday of Canada to pass without an opportunity for the Christian community and all of Calgary to celebrate the work God is doing in the lives of people."
HOPE150 will feature a 100 percent Canadian playlist highlighted by "Stories of Hope" from inspiring Canadians who have faced adversity, accomplished great feats, and overcome life's greatest problems. Organizers have invited musical groups from across the country to join several local bands. The producers are including different music genres at different times of the program. There will be something for everyone: families, children, adults, young adults, and teens. Those attending are encouraged to check out the full schedule on the HOPE150.ca website or on Facebook @CanadaHOPE150.
"They say a person can survive up to 40 days without food, three days without water, approximately eight minutes without air, but only seconds without hope," said Caldwell, "We're praying that Christians across southern Alberta will come and invite their friends and neighbours to celebrate the hope we know in Jesus Christ."
Where: Shaw Millennium Park, 1220 9th Avenue S.W., Calgary
When: Friday, June 30th from 5 p.m. - 9 p.m. AND Saturday, July 1st from 8 a.m. - 7:30 p.m.
What: A multi-generational, child-friendly event to celebrate Canada's 150th birthday — featuring more than a dozen stories of hope, Juno Award-winning bands and musicians, face painting for kids as well as games, activities, a puppet theatre and super-sized inflatable obstacle course. A free pancake breakfast will be offered from 8 a.m. to 10 a.m. on Saturday.
Lineup: Local area artists include, NewLaw, Anchored, JansenSisters, Rhonda Louise, Grace Revolution, Patience In Waiting, Flint & Feather, XEMPT and All Above Me. Other award-winning Canadian artists include The Hunter Brothers, Manafest, Fresh I.E., Tim Neufeld & The Glory Boys along with commedians Matt Falk and Phil Callaway.
Free Pancake Breakfast: Three local charities will help server up pancakes, sausages and hope - The Mustard Seed, Calgary Pregnancy Care Centre and the Calgary Dream Centre. Breakfast will be served July 1 from 8:00 - 10:00 am.