Shaw TV Calgary Extends Airing!
Details

Category: News
Created: Thursday, 13 August 2015 16:37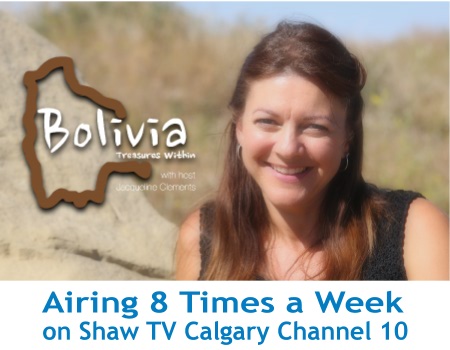 SHAW TV has agreed to re-run the complete Bolivia: Treasures Within series beginning again August 25, 2015 and running through October 5, 2015! Watch all six episodes including the latest and final episode of this series which adds a "behind the scenery" look at the filming of the first 5 episodes. A new episode will air each week starting again with episode 1 on Tuesday, August 25, 2015, at 9:30 PM.
The schedule for the 6 episodes is as follows:
Episode 1 - The Butterfly Resort: Tue July 14-20
Episode 2 - The Pirai River: Tue July 21-27
Episode 3 - Civilizations Past & Present: Tue Aug 3-9
Episode 4 - A Jungle Paradise: Tue Aug 10-16
Episode 5 - Christmas On the Streets: Tue Aug 17-23
Episode 6 - Behind the Scenery: Tues Aug 24-30
Stay connected via Facebook and Twitter for regular updates and please let your friends know about the show!